The Mayor's Profile and Diary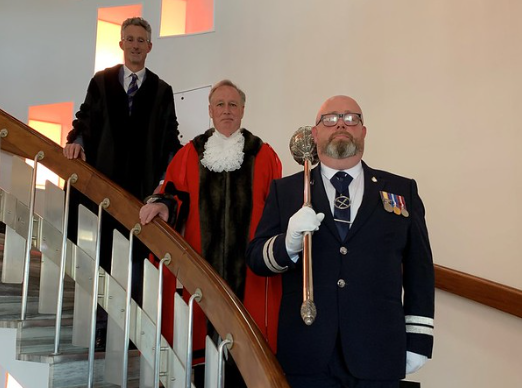 The current Mayor is Councillor Stephen Habermel.
Councillor Stephen Habermel was inaugurated as the 102nd first citizen of the City on Thursday, 11th May, 2023.
The Mayor's nominated Charities for the 2023/24 municipal year will be Havens Hospices and The Music Man Project. For more information about the charities or to make a donation please visit their websites via the following links:
Councillor Ron Woodley was also elected as Deputy Mayor for the 2023/24 municipal year.
A list of all of the Mayors since the date of incorporation can be found here.
The Role of Mayor
The current protocol is that the Councillor who has served the longest and who wishes to be Mayor, is nominated as Deputy Mayor, they are then automatically nominated to become Mayor the following year.
The role of the Mayor is purely ceremonial. They do continue to carry out Ward work, but this must be in their role as a Councillor and not as Mayor.
Within the Council, the Mayor's main responsibility is to chair the meetings of the Full Council, held in the Council Chamber, where all 51 Councillors debate and confirm Council policy.
Externally, the Mayor is the figurehead of our city and of the people of Southend. This involves promoting charities and voluntary organisations, the business community and education. The Mayor opens events and makes presentations, attends functions as your representative, hosts events organised by the Council and receives high profile visitors to the city. In so doing, the Mayor represents and promotes Southend to a wide audience.
The Mayor is invited to attend around 450 engagements during their year in office. For example:
Presiding over citizenship ceremonies
Many charity events held at Porters, our Civic house, or other sites in town
Walking buses
Opening new businesses
Seeing many of the Amateur Dramatic productions
Opening the high street's themed markets
Visiting the university, college, schools etc
Formal visits to most of the other authorities in Essex
On the occasion when the Mayor is unable to attend an engagement due to previous commitments, the Deputy Mayor will attend on behalf of the Mayor.
The Mayor's diary is available to download. Please note these diaries are only updated weekly so do not show last minute changes. In addition, events are often third party private functions and therefore may not be open to the public to attend.
If you have any questions or require any further information, please contact the Mayor's Officer & Macebearer, Mr Adam Tregoning JP, using the contact details below.
If you would like to invite the Mayor to an event that you are arranging, please complete the engagement request form. Unless there is an exceptional circumstance, requests must be received a minimum of 10 working days in advance.
If you would like to book an event at the Porters Civic House, please read the guidance and complete the booking request form.
Contact details for Adam Tregoning JP :
Telephone: 01702 215141(Direct) or 07930 222102 (Mobile)